A fresh paint job is one of the most cost-effective ways to boost your home's curb appeal. Whether you're considering an interior or exterior project, using a professional painting service has several benefits you'll appreciate in the long run. In fact, you can not only save time and effort, but you can also save money by working with a professional residential painting company. In this article, we highlight the key benefits of working with professional painters so you can add beauty to your home without the hassle.
1. Professional Painting Can Increase Home Value
Did you know a professional paint job can increase your home's value? The color of your house is one of the first features people usually notice. When your house has a high-quality exterior paint job, your curb appeal can skyrocket and increase the overall value of your home. Whether or not you're considering putting your house on the market, increasing home value is always a good investment for the future.
2. Save Time and Effort with a Professional Painting Company
Another benefit you can enjoy when working with a professional residential painting company is the time and effort you'll save. Today, the saying "time is money" couldn't be truer, and when you're not working, you'll likely want to spend time living life to the fullest, not worrying about how to tackle a project like painting your home. That's what professional painters are for! There's no need to take time off work or miss out on making memories with the people you care about. Instead, save yourself some time and effort by working with a professional painting company.
3. Save Money on Painting Products and Equipment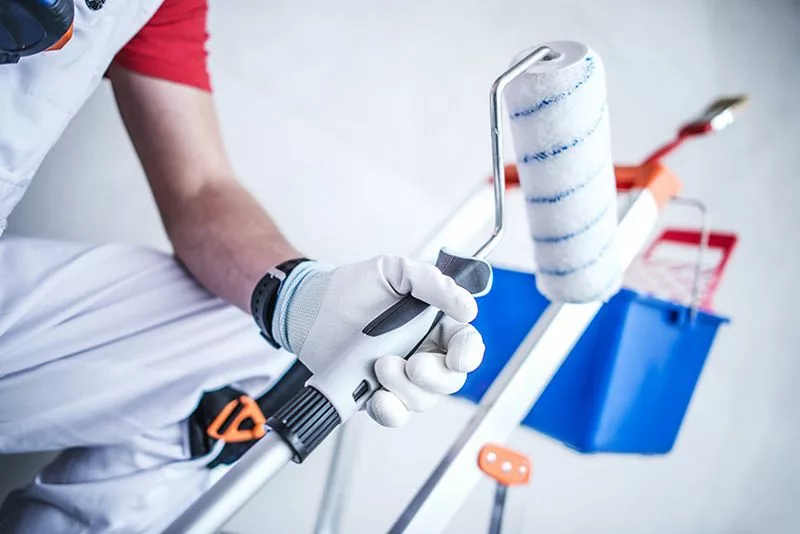 Painting your home DIY-style can cost hundreds of dollars in supplies, which often times are not even professional grade. Without professional equipment and proper paint prep, the quality of your paint job can quickly diminish, resulting in peeling, chipping, or bubbling. Also, why spend your hard-earned money on painting equipment that you will likely only use once? You can save lots of money on tools by leaving it to the professionals instead. At Timmins Painting, we are always equipped with the best possible professional equipment to ensure your residential painting project is completed 100% to your satisfaction. With gear like spray tools, ladders, patching tools, and more, you can rely on us to get the job done perfectly.
4. Professional Residential Painters Have Experience
If you don't have a lot of experience with large scale painting projects, tackling the exterior or interior of your home can be costly. When working with a professional residential painting company, you can enjoy the advantage of letting the experts get the job done with immense attention to detail, professional techniques, and the highest quality products and tools. Professional residential painting companies like Timmins Painting are dedicated to quality and know all the tricks of the trade for perfect results.
5. No Messy Paint Accidents
When you choose to work with a professional residential painting company, there's no need to worry about the mess. A professional will have years of valuable experience under their belt, which means you won't have to worry about costly accidents like paint spills, splatters, and other messes. At Timmins, we make the extra effort to protect your home from things like paint spills on furniture, carpets, hardwood floors, or driveways. Our professional painting teams will always take pre-painting precautions to ensure your home remains looking perfectly clean.
6. Quality Is Guaranteed with a Workmanship Warranty
Here at Timmins Painting, we offer a workmanship warranty, which is a contract that ensures any flaws or errors in the paint application will be corrected free of charge. Our warranty also promises that the quality of our painting services will last for a minimum of one year after project completion. With our quality guarantee and professional experience, you can trust us to get the job done exactly to your liking.
7. Know Exactly How Long Your Paint Project Will Take
Approaching a DIY painting project on your own can often involve surprises or miscalculations, such as forgetting to buy certain tools, not purchasing enough paint, and more. These events can throw off your overall timeline and make the project a bigger hassle than it needs to be. Luckily, when you hire experienced professionals, you know exactly how long the project will take upfront. At Timmins Painting, we offer free painting consultations so you know exactly what to expect and how long your painting project will take before we even begin.
8. Know You Painting Project Costs Upfront
Knowing the overall price of your home painting project ahead of time is another great benefit you can enjoy when working with a professional residential painting company. This advantage is great for effective budgeting, and your peace of mind as well. Experienced professionals know what to expect in terms of pricing, and with a free painting consultation, you can find comfort in knowing what to expect, too.
Find the Best Painting Company in Sonoma County for Your Home and Budget
Hiring a professional for painting services will save you time, money, effort, and the disappointment that can come with a botched paint project. Here at Timmins Painting, we have over 25 years of experience, and offer a broad range of residential painting services performed by our team of skilled professionals. Contact us today and enjoy the results of your professional residential painting project for years to come!
Fill out our online contact form to request a free quote, or give us a call at 707-792-0773 so we can talk about your next residential painting project.