Sonoma County has an exciting blend of culture and business that seems to make our business owners open to a wide variety of color schemes. That doesn't mean that they shouldn't put considerable thought into their color choices, though, and they should never settle for a sloppy job. It's still your business, after all. You want to be proud of it, and your income depends on it. Here are a few ideas of topics to research before you hire that painting contractor in Santa Rosa or Sonoma County.
The Dos and Don'ts of Choosing Colors for Your Workspaces
Do research how color affects people. It's fun and can be advantageous to research the effect of colors on mood. Rich colors can be distracting for your employees, but white and gray can be depressing. Certain colors will encourage an agreeable mood, while other colors denote power. What mood do you want for your accountants? What mood do you want when a prospective client walks in the door? Believe it or not, according to color experts a green that makes people feel tranquil might be one drop of blue away from a color that makes them feel fearful. It's a pretty interesting topic!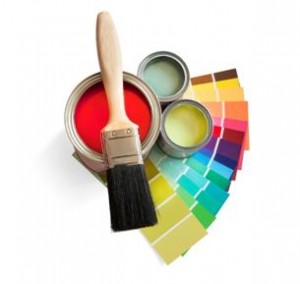 Don't choose colors that work well for each room but don't work well together. The complicated part is choosing a color scheme that enhances the mood you want for each room but works together harmoniously. The power color you want for your boardroom might clash with the productive color you chose for your accounting offices.
Choosing Your Painting Contractor in Santa Rosa, Sonoma County
A quality painting contractor will have several examples of color combinations that have worked well for offices they've painted in the past in case researching colors and mood is not your cup of tea. If you did research and you have colors picked out, your painting contractor should be able to steer you away from color combinations that don't work and give recommendations for slight changes in hue that will bring about the effect you were looking for.
You or your painting contractor can choose the most amazing color scheme in the world, but if the painters do a sloppy job, your office will look unprofessional. A good painting contractor does precise work.
Every painter will tell you that he can recommend great colors and that he does precise work, so be sure to look at portfolios and check reviews. When you decide that your offices need painting, start keeping your eyes open for offices with impressive paint jobs and ask who the painting contractor was.
Timmins Painting has been a painting contractor in Santa Rosa, Sonoma County specializing in executive suites and corporate boardrooms and for over 20 years. For great colors, quality work, and painters who know how to work causing the least disruption to your business, CONTACT US or call (707) 792-0773.
---