A commercial building's décor is emblematic of the business operating within. Companies with poor exterior paint will have difficulty forming the type of public image that will ensure success. It's the reason many leading Santa Rosa companies are now searching for a trusted commercial painting company. In this article, Timmins Painting will outline how high quality commercial painting work can improve a business's image and help enhance the Santa Rosa, Petaluma, Rohnert Park and Sonoma County community.
Sparks Interest from Potential Clients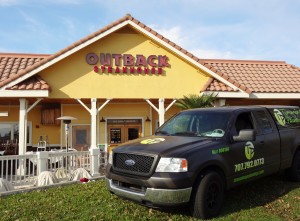 New professional exterior paintwork is instantly noticeable. It has a transformative impact not only on the building but also on the surrounding local environment. Companies that commit to the commercial painting process can gain instant appeal from those passing by their property, as well as those who might be visiting to speak with company representatives. It's a tool companies can use to engage new clients and to maximize their business potential.
Improves the Environment for Employees
The quality of a property's exterior has a significant impact on those working inside. It's imperative that companies utilize quality commercial painting services to transform dull or otherwise uninspiring areas of their buildings into beautiful, inviting and engaging areas. Many companies have found that painting their interior or exterior helped them keep their most talented resources and helped inspire others within the company to work harder and maintain a positive office environment.
Enhances the Value of the Property
Commercial buildings are often a growing company's most valued asset. Commercial painting can help Santa Rosa companies improve the value of their buildings and provide a resounding return on investment in curb appeal. In fact, painting work has proven to offer one of the best returns on investment of any building renovation work.
The Process Begins with Finding the Right Organization
Now that company leaders understand the long-term benefits that commercial painting offers their organization, it comes time for them to assess candidates in their area and find a firm that offers the service they're looking for. This is a process that will take some time. It requires comprehensive research to ensure a clear understanding of the marketplace, as well as the available options to help improve the quality of the interior and exterior of the business structure. Business leaders should speak to painting firms that can offer the following:
A guarantee for their workmanship
Cost-effective project pricing
Many years' experience within the marketplace
A clear plan on how to complete the painting task
Access to previous customer references
Working with a trusted leader can help companies secure their reputation for years to come through high quality paintwork. Timmins Painting provides Commercial Painting in Petaluma, Rohnert Park, Santa Rosa, Sonoma County and Beyond. To learn more, speak with the specialists at Timmins Painting directly (707) 792-0773.