Santa Rosans love their city. They love their vibrant, adorable downtown, they love their oaks, redwoods, and madrones, and they love the pastoral views of hills and farmland. They take pride in their homes, and with our commercial painting in Santa Rosa, we at Timmins Painting take pride in making sure that the buildings around town add to the beauty of the region rather than detracting from it.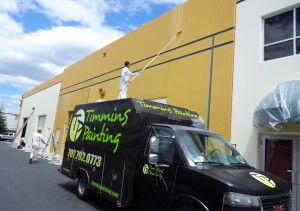 We know that you take pride in your business, too. We partner with you to make your building look its best so that you can make a great first impression on your customers and clients. Our painters are all highly trained and experienced. Their work looks precise, professional, beautiful! See our website for photos of local restaurants, offices, hotels, and other examples of our commercial painting in Santa Rosa and Sonoma County. We want to make your buildings look good. And by keeping your business looking good, you'll be proud to contribute to keeping our scenic county looking good, too.
Not only do we understand how critical it is for your business to look great, we understand how important it is that your work is done on time and with the least disruption for you and your employees, customers, and clients. Our business is to help you maintain your business while we work.
We also specialize in custom paint jobs for executive suites and corporate board rooms. We can give a clean new coat to an already tried and true color, or we'd even love to help you visualize a color scheme that creates the image you want to present.
As a business owner, you know that it's essential to make your customers happy. And we know that, too. Your satisfaction is of utmost importance to us. We offer free consultations and quotes and a guaranteed warranty. We won't waste your time trying to sell you things you don't want, and we'll give you exactly what we promise.
If you're looking for a reputable company to do the highest quality commercial painting in Santa Rosa or elsewhere in Sonoma County, CONTACT US or call (707) 792-0773 now for your free consultation. Let's keep your business, and Sonoma County, looking great!