Commercial painting projects can help transform a business property. They can ensure growing companies gain interest from within their local area and improve the environment for their employees. But most growing small businesses often don't have the free capital to invest in a commercial painting project. And so it's important they learn the latest techniques to consolidate expenditures without sacrificing the final project result. Within this article, the experts at Timmins Painting explain how companies can reduce the cost of commercial painting work.
Plan for the Work Months Ahead of Schedule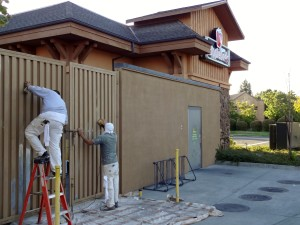 In any type of commercial painting project, it is important that companies plan for the work months in advance. That's because the painting companies completing the work will likely charge a premium for any services provided on a fast turnaround basis. Giving the company plenty of notice for the required work will ensure that they can plan with their team to keep costs down for the client. Business owners can also keep in-house profits on track by planning ahead for the commercial painting work. This ensures that all team members are prepared for any impact the work might have on their day-to-day processes and can mitigate this impact effectively.
Begin Projects with a Free Quote
It's imperative that any commercial painting project begins with a free quote from companies in the area. This can help both the painting firm and their business client to analyze the requirements and come to an agreement on final cost. Many firms run into trouble when they don't discuss the final cost at the start of the project. This can lead to the painting firm spending more time on non-essential areas and driving up the final price of the project. A free quote provides the project with the ideal foundation for success and allows the company to ensure the work fits within their annual budget.
Discuss Options with Several Companies
In order to get the best return for their investment, it's imperative that companies consider speaking directly with several painting specialists. This will allow them to collect a number of quotes for their work while comparing the types of service companies in their area offer. One company might be able to help consolidate costs by building any fence painting work into the full price, for example. Another might be able to help the company reduce expenditure by completing pressure washing services as an add-on to their paintwork. By consulting with several companies, business leaders can analyze their available options.
Timmins Painting provides Commercial Painting in Petaluma, Rohnert Park, Santa Rosa and Beyond. To learn more, speak with the specialists at Timmins Painting directly (707) 792-0773.