What to consider when choosing exterior paint colors and why it matters
You have heard about curb appeal for homes. It's even more important for your business. The exterior color of a building speaks volumes about the enterprise within. Picking an exterior paint color may seem like a minor detail on the surface, but its impact will be felt for years to come. Like a logo, it's out there defining your brand and making the first impression. You'll want it to attract and invite, but not scream.
Here are a few tips for choosing exterior paint colors for your business:
Match Your Business
You've spent time building your brand. The outside of your building should support that image you have carefully created and curated.
Your brand and identity
There are likely colors that have become associated with your brand. Colors that visitors to your website have come to associate with your business. Does your exterior sign feature those colors? If so, you may want to go for a neutral, complementary color to act as a background, so your sign will stand out. If not, you can use a version of the color scheme from your website and marketing collateral on the building itself.
Type of business
In addition to your specific brand, your industry may also be a factor. Certain industries tend to favor particular colors. While that doesn't need to dictate your decision, it might make your building easier to find. A florist shop might be that brightly colored storefront amidst its drab neighbors. A first-time visitor to a law firm might be drawn to the beige storefront rather than its cheery neighbors.
Architecture
Another consideration is the color of the existing architectural features that you won't be painting: roof tiles, redwood siding, decorative stone, decorative or security ironwork. The color chip from the paint store might look great against the wall you're painting, but how will it contrast or compliment the building's other features?
Psychology of Color and how it applies
Employing color psychology can boost your business success. Color psychology suggests that color can create different emotions, which can influence a consumer's perception of your business and affect their interactions with you. Colors evoke emotions, which drive our decisions. What emotions do you want to engender? A beige color scheme might say "boring" and "ordinary." But it also might say, "safe." Blue might suggest "welcome" and "bold." Read Using Color Psychology To Choose the Right Color For Your Business Exterior to learn more.
Color Theory and identifying your palette
Without getting too heavily into the science of color, or color theory, there are four categories of color schemes.
When choosing colors for your building's exterior, you will use one of these basic types of color schemes:
Monochromatic (different shades of the same hue)
Analogous (colors are adjacent on the color wheel)
Complementary (colors from opposite points on the color wheel)
Triadic (colors that form a triangle on the color wheel)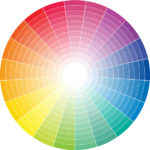 To help determine which is right for how you wish your business to be perceived, consider the aspects of each. Monochromatic schemes are good for a more minimalistic feel, while Complementary schemes are better for more eye-catching visuals. Analogous schemes make it easy to match close-knit colors with similar emotions. Finally, Triadic schemes are the most complex and interesting.
Fitting in while standing out
As a business owner, you are always looking for ways to stand out from the competition. You want your building, then, to catch the eye and stand out from its neighbors. Choosing a color that contrasts with your neighbors can achieve this. However, a word of caution. If you veer too boldly from the colors of the surrounding facades, you may draw attention in a negative way.
Sonoma County Businesses Trust Timmins Painting
At Timmins, we have 20 years of experience helping local businesses enhance their buildings with professional, quality painting, and we can help you with this important statement that you are making to the world. Call (707) 792-0773 today to speak with the specialists, or contact us online to request a free estimate.