While painting is one of the most cost-effective home improvement projects, it still requires some investment of both time and money. In this article, you'll learn what common painting mistakes to look for when buying a home, to better inform your offer, and your to-do list after you move in.  
5 Paint Issues to Look for When Buying a Home
Purchasing a new home, especially for the first time, can engender a wide range of emotions. It's a rite of passage that can be both thrilling and terrifying. With all of those emotions swirling around, it's easy to overlook certain details. One of the things that could be missed, along with the clanking of the furnace, and the loose deck boards, is the condition of the paint, inside and out.
Here are five paint flaws you should never ignore when buying a home.
1. Signs of Weathering or Water Damage
Most advanced painting issues can be readily detected. It just takes closer scrutiny and good lighting. If you take a close look at the exterior walls of your potential new home, you may notice one or more of the following issues.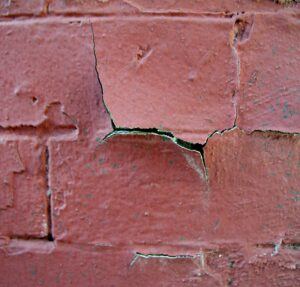 Peeling
Blistering
Running
Cracking
Mildew
These issues could mean the home is just overdue for a fresh coat of paint, but they could also be signs of much more concerning issues, like water damage. Failure to address these paint issues can easily lead to much more costly repairs like leaks and other structural damage from wood decay.
Signs of interior water damage on the walls or ceiling could indicate leaky plumbing, and are important signs to look out for when buying a home. Water damage usually looks like light brown rings on the walls or ceilings. Where there is water damage, there is likely mold or mildew as well, so simply painting over the stain won't solve the problem.
The surface will need to be completely dry and any rot, mold, or mildew will need to be professionally removed and repaired before any painting can be done. Once the area is repaired painters will apply a high-quality, moisture and mold-resistant primer to prevent any future mold growth. This will also help to fully cover up any remaining water stains. Professional painters will also know what types of paint will be more resistant to future moisture issues. If you can still see the stain peeking through, this hasn't been done. Take a close look at the bathroom walls and ceilings as well as the kitchen.
2. Stains Showing Through Interior Paint
Another common type of stain that takes more aggressive action is nicotine, which coats walls and ceilings with a pervasive yellow film, and requires stain-blocking paints. Once again, the residue will need to be fully removed before painting to fix this issue. If you smell any hint of nicotine, or see any yellowing, that's a red flag that you may be in for nicotine removal, which can be extensive, and go beyond just the walls and ceiling. If you peek behind a wall hanging and the color of the paint underneath is brighter and clearly different, that can indicate nicotine staining.
3. Flat Finish in Bathrooms and Kitchen
In adequate light, it's easy to notice flat paint where a glossier sheen ought to be. A higher sheen of paint on bathroom and kitchen walls, which need to hold up to steam and splatters, will make them easier to clean and more resistant to the effects of the airborne moisture. Repainting with a semi-gloss before the mildew sets in can be less costly in the long run.
Read our blog about "Types of Paint Finishes" to learn more about picking the best type of paint sheen for different areas of your home.
4. Wear and Damage
If the sellers haven't repainted recently, there will be signs of wear, fading, and stains. Look closely, and you may notice the following deficiencies.
Damage from Furniture and Door Knobs Rubbing or Hitting the Walls
Fading from Sunlight and Age
Wear from Years of Scrubbing
Stains from Dyes from Furniture and Drapes
5. Issues Due to Inferior Paint Prep or Application
If the seller or agent assures you the home has been freshly painted, it is still a good idea to give them a closer look. Especially if they did it themselves or hired an inferior painter.
These painting issues are easy to spot, if you're looking for them:
Sloppy Seams
Bubbles
Drips
Heavy Brush Strokes or Roller Marks
Trust Timmins with All of Your Painting Needs
Whether you've found your dream home, want to freshen up your existing home, or repaint before selling to add value, you can count on the professionals at Timmins Painting to get the job done right. With over 25 years of experience serving Sonoma County homeowners, our team of professional painters knows the importance of preserving the value of your home with a quality paint job, inside and out. Contact us online to request a free estimate today!