If you are looking for some inspiring ways to spruce up your space this year, you are not alone! Many Sonoma County homeowners are looking to start the New Year off in style!
One of the easiest updates you can make to your home this year is a fresh coat of paint! And who better to look to for color inspiration, than the color experts themselves at the Pantone Color Institute?
Each year, design professionals, artists, and trend seekers wait for Pantone to announce their Color of the Year… and this year, we get two!
Pantone 2021 Colors of the Year
Ultimate Grey
(PANTONE 17-5104)

Like a durable but humble stone, the "ultimate" grey color was picked to represent strength and resiliency.
Illuminating Yellow
(PANTONE 13-0647)

The warm, "illuminating," yellow color, was chosen to symbolize the bright and cheerful hope we all have for the future of 2021.
These colors are both uplifting and soothing, so it's no surprise that so many people are inspired to use them around their homes. Are you wondering how to best use these color trends in your next paint project?
In the spirit of new beginnings, the professionals at Timmins Painting are here to help you bring your home's exterior from drab to fab! Read on for some expert advice on how you can incorporate the 2021 Pantone colors of the year in your home's exterior paint project.
The Best Ways to Use 2021 Pantone Colors of the Year in Your Home's Exterior Paint Project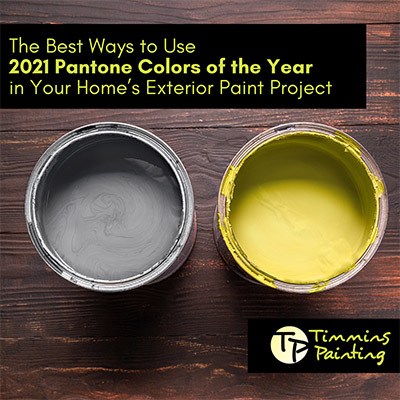 The Pantone 2021 colors of the year create an extremely versatile paint palette, perfect for an entire exterior home make-over.
Ultimate Grey Home Exteriors
Grey has always been a popular exterior paint color choice because it can suit almost any home design and style. Choosing to paint your home's exterior predominantly grey can give you a lot of room to get creative in other areas without being too overbearing. Pantone's Ultimate Grey is incredibly versatile and an exterior paint shade that will truly stand the test of time.
Illuminate Your Home's Exterior Accents with a Pop of Yellow
Pantone's Illuminating yellow, is a soft but cheerful color, which provides a pleasing contrast to neutral grey paints. Painting the exterior accents of your home this yellow shade is a great way to bring these smaller areas to life.
Your Front Door
Painting your front door yellow is a great way to make your home feel welcoming, and will be a cheerful sight for you and your guests.
Window Shutters
Yellow shutters are a bright pop of color that can add a warm, homey feel to your home's exterior.
Your Garage Door
Painting your garage door yellow is unique and eye-catching, and a great way to add a creative charm to your home.
Get the Most Out of Your Front Porch With a Fresh Coat of Paint
If 2020 taught us anything, it's the importance of getting the most out of our homes, while taking advantage of our outdoor spaces. If you are looking for an easy way to cozy up your front porch, a painting makeover is the best place to start.
Front Porch
Revamping your front porch can not only boost your home's curb appeal, but it also creates a comfortable outdoor area the whole family can enjoy. Choosing a light grey paint color for your front porch is a great way to open up the space to be more light and airy. And using yellow decor to compliment your subtle grey paint palette is a jovial way to liven up your outdoor space.
Get a Free Residential Paint Quote from The Experts at Timmins Painting of Sonoma County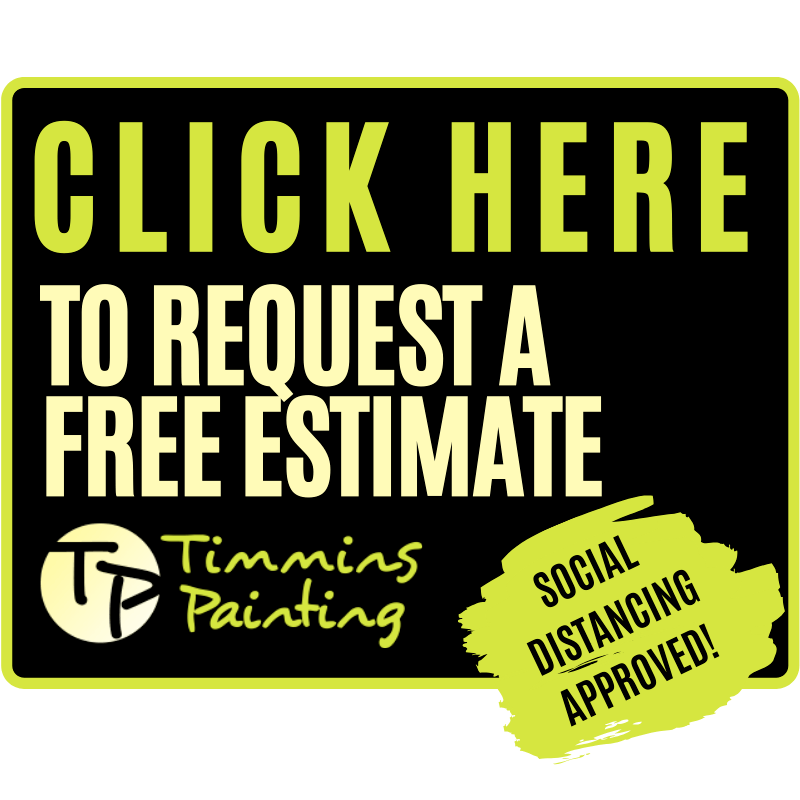 If you are feeling inspired to spruce up your home's exterior with a fresh coat of paint, Timmins Painting is here to help! Our team of professional residential painters has over 20 years of experience serving Sonoma County homeowners. Whatever residential painting services you require, our team is here to make it a reality.  
Contact Timmins Painting today to get a free estimate on your exterior home paint project!