How An Exterior Paint Job Can Benefit Your Commercial Building
Peeling paint, drab color schemes, or noticeable fading to the exterior of your commercial building could be costing your business more than you realize. Between the landscaping, parking lots, sidewalks, and general building upkeep there are a lot of elements to managing commercial property. It can be easy to overlook signs your building is in need of a fresh coat of paint.
Signs Your Building Needs An Exterior Paint Job
Peeling, cracking, chipping in exterior paint
Noticeable fading in building exterior paint
Mildew or mold growth
Visible dirt and grime
If you own a retail building or office building in Sonoma County, there are many benefits to investing in maintaining your property's appearance. Read on to learn some of the surprising ways an exterior paint job could benefit your business.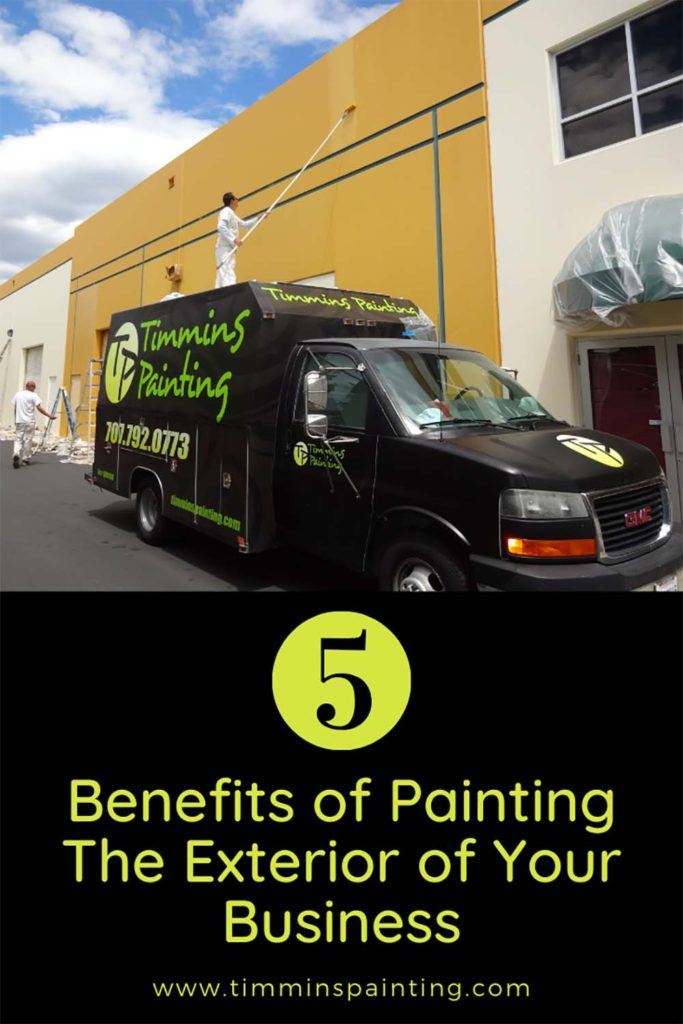 1. A Professional Paint Job Will Save Your Business Money
Many business owners can agree to the age-old saying that "time is money". No matter the size of your business, a quality paint job is going to take time. When you hire the professionals at Timmins Painting you know the process will be done with little interruption to your business productivity. Our team understands the importance of deadlines and we guarantee the job will be completed efficiently and on time.
A professional paint job will also add a protective barrier from the elements and potential pests from infesting your building. Maintaining the exterior paint will reduce the amount of surface damage or small cracks that could lead to bigger issues later on, saving you time and money in the long run.
2. Attract New Customers to Your Business with an Exterior Paint Job
Keeping someone's attention in this fast-paced world can be difficult. People often make quick assumptions based on what they see. Maintaining an attractive storefront is one of the best ways to make a memorable first impression on new clients and customers. Stop them in their tracks with a welcoming and attractive paint scheme.
3. Stand Out From the Competition with an Exterior Paint Job
Any business owner's goal is to make their business as profitable as possible. This can include building a good reputation and getting noticed for all the right reasons. An easy way to set yourself apart from the competition is with an exceptional presentation. A fresh coat of paint can go a long way if your storefront needs a makeover to stand out as elite.
4. An Exterior Paint Job Benefits Your Business Employees with a Fun Environment
Creating an environment that makes your employees feel comfortable and welcomed is important. Feeling confident in your job environment can motivate workers to be enthusiastic about what they do there.
These benefits can lead to less employee turnover and the retention of happy and productive workers. A new paint job can bring new energy to your organization and be a great way to boost morale.
5. Benefit of Matching Your Buildings Exterior Paint to Your Business Brand
When you choose to incorporate your business' color scheme and branding on the outside of your building, it truly makes a statement. Whether you own an independent business or a chain of locations, you are bound to make a memorable impact by branding your building with a professional paint job.
For people new to your organization, branding your building with a matching paint job will make you stand out and give them something they will remember. Similarly, it makes sense to match your building's exterior to something your current customer and clientele base will recognize.
Your Trusted Local Commercial Painting Company in Sonoma County
Timmins Painting has been providing professional painting services to businesses in Sonoma County for over 20 years. From restaurants and hotels to offices and retail stores, our team of licensed painters can do it all. Contact us today to schedule a free estimate consultation on your commercial paint project!