Your Ultimate Accent Ceiling Painting Guide: How to Use Your Ceiling to Enhance Any Room in Your Home
Obviously, painting your ceiling isn't a new concept. Every paint brand has its own take on the perfect "ceiling white" paint color. An accent ceiling, or "fifth wall," on the other hand, is a super easy way to give any room in your home a unique pop of color.
Many homeowners, following the latest painting trends, are choosing different paint colors and textures for their ceilings. This little hack can do it all. That includes enhancing otherwise imperceptible room features, subduing undesirable aspects, or simply shifting the focal point. The options are endless with accent ceilings!
Match, Contrast, or Compliment?
As with an accent wall, your accent ceiling can either compliment the color of the adjacent walls or contrast with it. A lighter, cooler color will make the room feel bigger, while a darker, warmer color can make it feel cozy.
Contrasting the wall color with a different hue in the same color, or its near cousin, will solidify the overall theme of your room, much the same as when you add tan throw pillows to a cream-colored couch, tying in the tan picture frames.
Complementing the colors of the wall will create a more striking effect. If you want the ceiling to get attention, choose a color that is opposite the wall color on the color wheel.
You may even decide to match your wall color, which is another way to create an accent, by extending the color overhead for a more integrated look. If your wall color is other than some shade of white, your visitors will be compelled to look up and take in the room in an extra dimension.
How Many Colors are Too Many?
When choosing to add another color to your room, you might be thinking that painting the ceiling a different color than the walls and accents is too many colors. Generally, three is the recommended maximum. Perhaps you have chosen one color for below the plate rail or other trim feature, and another above for above it. The trim is a third color. Your new ceiling color would be a fourth.
Doesn't that break the old standard 60-30-10 decorating rule that gives the primary color 60%, the secondary 30%, and the accent color 10% of the space? That's something to think about for sure, but with a clear understanding of the rule, it can carefully be broken without turning your room into a loud kaleidoscope of color. One of the easiest ways to break it is going with different shades or hues of the same color for two or three of the colors.
What Is the Best Finish for my Ceiling?
When deciding on the best finish for your ceiling, there are a few considerations to examine. First, if your ceiling surface has any imperfections, adding any type of gloss will make those more obvious. For this reason, a flat finish is the best option. Another approach would be to go with textured paint that will better hide these imperfections. Depending on the level of imperfections, you might be able to introduce a matte finish.  
Assuming your ceiling is pristine, the higher the sheen, the more light is reflected. This brightens the room and drawing more attention to your ceiling. For bathrooms and kitchens, gloss is best. It's steam resistant, which prevents mildew and mold. Plus, it's durable and easy to maintain. More information regarding paint sheen can be found in our "Everything You Need to Know About Paint Sheen" article. 
What If My Room Has Architectural Accents?
Adding color to a ceiling in a room with more angles, windows and trim can provide either obstacles or opportunities. Rooms with short accent walls, window seats, sloped ceilings, or elaborate crown molding introduce more options for accent colors. But, it can be super easy to get carried away. These rooms already have more focal points, so they don't need a lot of help to enhance them. Going more neutral with the ceiling color, or matching one accent, will help these unique features pop. 
What Are the Advantages of Hiring a Professional?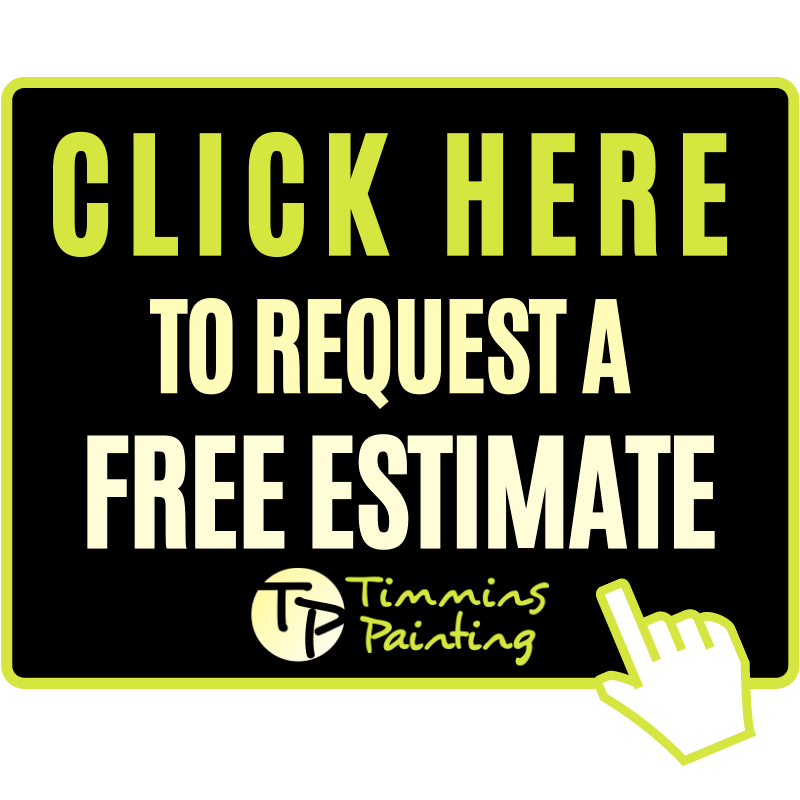 If you are looking for additional design changes for your various rooms, you might consider bringing in an interior decorator or designer. Partnering with them for the design decisions and color choices can provide the assurance that your whole space will have the effect you are aiming to achieve.
Whether you hire a designer, or not, hiring Timmins Painting, with our 25+ years of experience in interior painting will guarantee the highest level of professionalism and attention to detail. If it's time to repaint your home's interior, contact us online today for a free estimate.